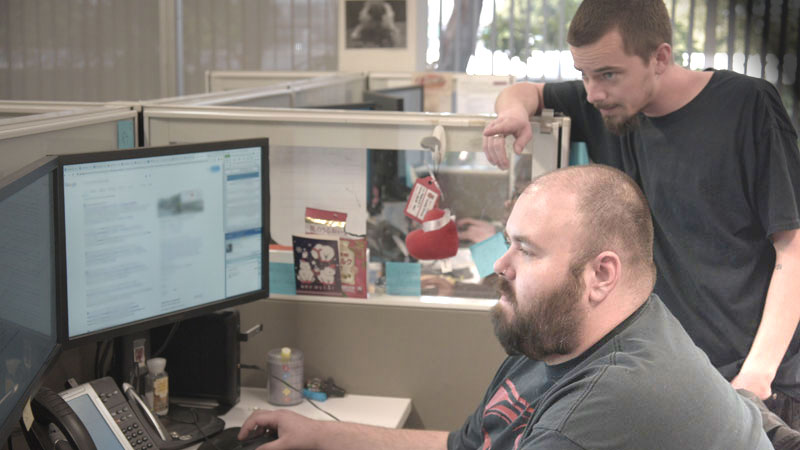 Verification of Employment
Veri-Tax is the only Verification of Employment provider with a 99% success rate!
Veri-Tax's Verification of Employment provides unbiased third-party verifications that mitigate the risk of consumer misrepresentation, reduce in-house VOE processing time and deliver compliant verifications. Veri-Tax expedites the delivery of complete and accurate employment data within 24-72 hours.
Verification of Employment Features & Benefits
Currently have access to over 60 third party verification providers
Taking a dynamic and resourceful approach when contacting employers that are difficult to reach
Best practices and employer intelligence based on broad experience across numerous clients
Delivering "customer happiness" throughout the entire process by accommodating special requests and collaborating with clients
No additional fees for account maintenance or support
Flexible order placement options
Onshore service agents
24-72 Hour Turn Time
A partner dedicated to improve efficiencies and streamline the verification process. We offer the fastest and most thorough Verifications of Income and Employment in the industry!
Verbal verifications of employment (without income) completed 24-48 hours
Written verifications (with income) completed within 48-72 hours
Verbal reverifications needed prior to closing completed within 24 hours
Verification of Employment FAQs: Everything You Need to Know
What is a VOE?
VOE stands for "Verification of Employment." A VOE consists of verifying current or previous employment information including job title and employment dates. It is often referred to as "verbal" VOE even though employers or their designated third parties do not just complete VOE requests verbally. This is used by banks, mortgage lenders, credit unions, financial institutions, fintech players and other financial and non-financial companies to help corroborate an individual's employment status and history and inform underwriting and/or other business decisions.
What is a Reverification?
A Reverification is an employment only reverification typically used prior to loan closing to confirm that nothing has changed in the employment situation since the original Verificaiton of Employment (VOE) or Verification of Income (VOI) was completed earlier. Multiple re-verifications may be required if the loan closing date changes.
Why do I need a Verification of Employment (VOE) when I can use paystubs, W2s and/or bank account statements?
Based on underwriting, regulations, risk mitigation and/or other best practices, systematic verification of employment and/or income directly with the employer or their designated third party can be invaluable for corroborating and reconciling information from the paystubs, W2's, and/or other documents. In addition, more updated and detailed information not available from other sources may be needed (e.g., at least 2 full years of income history for underwriting certain income components such as overtime, bonuses, and commissions, reasons for any major changes in income and employment, etc). Ultimately, you want to both enhance the employee's client experience, and exploit information and insights from appropriate sources, particularly employers, to be able to underwrite and approve more of the right clients and grow your business better than your competitors.
Is there an instant Verification of Employment (VOE) solution?
Yes, there are instant VOE/VOI solutions available most notably The Work Number (TWN). However, no current solutions are sufficient. Even TWN which has accumulated the largest share of payroll records does not cover a substantial number of employers. Employment in the U.S. is fragmented wherein smaller businesses employ just under half of the private workforce and public employees are similarly disaggregated.
Aggregating payroll provider information has been hindered by the lack of consistent data standards and complicated by the fact that the ultimate owner of the payroll data is the employer on behalf of their employees who can be reasonably concerned and reluctant about storing their sensitive information in third party repositories. Moreover, information from TWN and other smaller third-party repositories may also be insufficient for all VOE/VOI needs.
Leveraging bank account information can be useful but has been hindered by the inherent data limitations (e.g., income breakdown and detail of direct deposit, available history). Furthermore, current technical implementation typically requiring personal banking credentials have also deterred consumer adoption especially in our current environment of heightened cybersecurity and privacy.
So, there are no proverbial silver bullets and solutions will realistically need a "waterfall" approach tapping different sources of income and employment information based on specific business requirements. If you want to serve all consumers and not just those who happen to work for employers on TWN, your VOE/VOI process will realistically be messy and complex.
Can we just do Verification of Employment (VOE) ourselves?
Yes, you can certainly handle VOE internally. If you have been, you are most likely realizing that VOE is actually quite messy and complex especially given the very fragmented nature of employers in our country with their diverse and shifting processes, policies, and requirements for responding to VOE requests. Moreover, you will not realistically be able to do it better, faster, and cheaper than a specialist with deep experience, optimized process, technology tools, and employer intelligence. So, by outsourcing to the right partner, you could free up your time and resources spent on Verification of Employment and redirect them to your other more pressing business needs.
Why should I choose Veri-Tax to help me with Verification of Employment
Veri-Tax is a leading national verification services specialist with over 20 years of experience. Our focus, culture, and innovation ultimately differentiate us.
Unlike our competitors with more diffused if not distracted focus, we have been sharply focused on continuously strengthening our leadership position, innovating our products, and deepening our expertise in Verification of Employment. We are disciplined in our focus choosing to specialize in services where we can deliver competitive advantage if not achieve market leadership. We trust in the sophistication of our customers to unbundle and wisely select the "best in class" services like ours.
Our culture is rooted in our seven core values: Deliver customer and employee happiness, Wear any hat, Overcommunicate, Value others and eat humble pie, Innovate and embrace change, Make lemonade, and Laugh out loud every day. Our cultural values ultimately guide and energize our strategy and execution on each and every order every single day to satisfy if not delight our clients. And, we help our clients protect their marketplace brand with the employees and their employers.
Our disciplined focus and differentiated culture fuel our innovation as we have continuously advanced our technology-enabled, data-driven, process-optimized, and "customer and employer happiness" delivered solution. We have been relentless in accumulating employer intelligence data from each and every transaction, enriching our technology tools, re-engineering our process, and developing our talent to advance our VOE/VOI solution.
Our track record ultimately speaks for itself as we have been fortunate to have earned the trust and confidence of over 1,000 clients which include some of our nation's largest financial institutions including 3 of the top 5 banks, leading mortgage lenders, innovative fintech players, and smaller mid-market banks and credit unions.