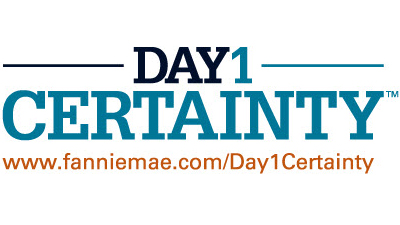 Fannie Mae Day 1 Certainty®
We are an Authorized Report Supplier of 4506-C Tax Transcripts verification reports for Fannie Mae's Desktop Underwriter® (DU®) validation service, a component of Day 1 Certainty.
Day 1 Certainty gives lenders freedom from representations and warranties plus greater speed and simplicity, and enables an improved borrower experience.
Desktop Underwriter (DU) Validation Service Advantages:
Faster and more efficient verification process
Freedom from representations and warranties on validated loan components
Improved experience for your borrowers
Fast, secure and reliable digital Tax Transcript directly from the IRS
Veri-Tax Advantages:
Flexible and robust integration options to fit into your workflow
A guarantee of "Customer Happiness" across all of your interactions
Quick and easy setup process
Fannie Mae Day 1 Certainty FAQs
Q: How can I take advantage of Day 1 Certainty?
A: Once an agreement is in place with us, you simply need to select 'Veri-Tax' in the 3rd Party Data Provider field in DU and submit Veri-Tax D1C Report ID Number to be validated in the Desktop Underwriter® validation service.
Q: What is the Fannie Mae Seller/Servicer Number or Subscriber ID?
A: The Seller/Servicer Number (SSN) is a 5-digit or 9-digit number specific to lenders who work with Fannie Mae. The Subscriber ID is a 6-digit alphanumeric ID given to brokers who have business with Fannie Mae. These unique identifiers help distinguish a Fannie Mae customer as being a lender or broker. If you are unsure, please contact 1-800-2FANNIE for assistance.
Q: Will there be an extra Automation Fee or Reissue Fee to get set up?
A: If you choose to use Fannie Mae's DU validation service for 4506-C tax transcripts, Veri-Tax will not charge an extra Automation Fee or Reissue Fee!
Q: How do I select Veri-Tax as a Fannie Mae DU validation service Report Supplier?
A: Lenders who do not have direct system integration can manually enter the D1C Report ID Number in the DU or Desktop Originator® (DO®) user interface. The DU and DO user interface includes an "Income & Asset Validation" section on the "Additional Data" screen.
In the Income & Asset Validation section, choose Veri-Tax from the drop down menu, and enter the corresponding Borrower SSN with the associated Veri-Tax D1C Report ID Number.
Users can enter up to four Fannie Mae reference numbers to accommodate multiple borrowers on the loan application. Please enter the Fannie Mae reference number as SSN:Report ID Number.